Tool-Free Cat Tree Repair | No Glue No Staples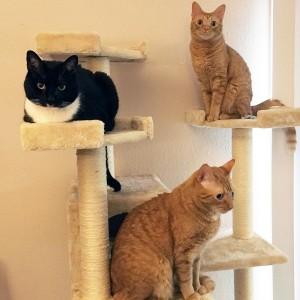 I wanted to share this tutorial video I found on YouTube that I used to repair a part of our cat tree. Our three kitties are master sisal scratchers and they started to unravel the rope on one of the main posts of their favorite cat tree. We've had this tree for almost 6 years.
The cats use the tree for napping, scratching, and as the end point after a round of zoomies across the living room. It's held up remarkably well, except one of the lower sisal-covered legs started to unravel after years of constant use.
I looked into cat tree repair and most of the tutorials I found required the use of staples or glue, or both. I looked a little deeper and found this great tutorial that uses no tools. All I had to do was get some new sisal rope. Check out this tutorial.
In my case I was replacing sisal rope with more sisal rope, so my finished product left two longer strings dangling. I tied toys to both of them and almost immediately after I put the tree back upright, Gumby started playing with one of the toys. It's been a couple of months since I made the repair (it was an early quarantine project) and it's holding up very well.